Beyond Van Horn: Steve Lopez – General Manager Turned Pro Angler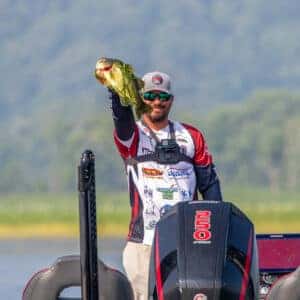 In the early part of 2023, Steve Lopez, former General Manager of Van Horn Ford of Oconomowoc, made the difficult decision to leave the auto industry he loved, and focus all his attention on the professional fishing circuit.
In his first season as a full-time angler with Major League Fishing, Steve is already making a name for himself. He competed in 24 events and has 4, Top-10 placements under his belt.
Steve was able to make time in his busy schedule to sit down with us and answer some questions about his experiences at Van Horn and as a pro angler.
How did you get into bass fishing?
My father worked in the fishing industry his whole life, as a wholesaler for a company that distributes to your local tackle stores, Fleet Farms and such. He took us fishing at such a young age and introduced us to the outdoors. I started watching Bassmaster on ESPN and reading fishing magazines. I gravitated toward fishing for bass more than other species.
Where did your passion for fishing come from?
My father introduced my brothers and I to the outdoors. I always played sports competitively, and fishing helps fuel that competitive spirit. Fishing is just such a unique sport with so many different variables to learn such as lakes, times of year, patterns, and such.
What was the lightbulb moment when you realized you wanted to be a professional angler?
I always dreamed of it when I was a kid watching Bassmaster on ESPN with Kevin VanDam. When I entered a high-level fishing event for the first time and made a top 10 against 260 other anglers, it really showed me that I could possibly do this thing.
What is most challenging about being a professional fisherman, and what is the most rewarding?
The most challenging by far is the financial insecurity. It's a risk to do this as a profession with a family and bills. The most rewarding is being able to provide for my family. No doubt, when you take a leap of faith doing something and it works out, it's very rewarding.
What has been different in life since joining the tour?
Everything from finances to where we live. I am on the road in an RV with my wife and 3 kids. We are currently in Idaho for a few days, then off to Montana, then Washington, and other places. Day-to-day life looks very different than 6 months ago. It's been a challenge to adjust but has absolutely changed my perspective on life.
What is your favorite Major League Fishing moment so far?
At the last event of the Tackle Warehouse Invitational season, I was in contention to win. I was leading the tournament going into the final day and I had a real shot of winning $80,000 and a RedCrest invitation, which is equivalent to the Super Bowl or NBA championship in bass fishing. On the final day, we were fishing right here in Wisconsin on the Mississippi River in La Crosse, WI. Myself and about 10 other guys with 2 hours to go were stuck behind a barge going back down from pool 7 to pool 8. They have locks in between pools to control water flow. Well, there was a big barge in it, and none of us knew about it. We all thought we would not make it back on time, and our catches from the final day would be disqualified; meaning I would not weigh in my 5 fish from that day and lose out on 1st, 2nd, or 3rd place. The barge went through and we made it back on time with minutes to spare and I ended up taking 2nd place. Standing up there with Chris Jones, with friends and family in the crowd, and getting down to the last 2 people was a dream come true. I've dreamt of that moment for a long time. I didn't end up winning, and took 2nd place, but it was a huge confidence booster.
Thinking back on your Van Horn days – is there a piece of wisdom you learned that's been a game-changer in your fishing career?
Van Horn invested a lot into my leadership ability. We had MRA training, yearly management training, NCM training. They were constantly trying to develop us as leaders and that has helped me grow as a human being, which 100% helps me on the water. Catching bass is easier than an angry customer who hasn't had their car because of back ordered parts. Also, just dealing with problem solving each day helps me on the water. I've had to overcome a lot of little problems on the water and the road, and that has helped me immensely.
How did working at an employee owned company help you be successful as a pro angler?
Employees really care about Van Horn Automotive Group and the success of it. I never had that at a different job, and it taught me how to grow as a human being. How to mature and develop skills such as patience and understanding. I use those daily when things are going really good or really bad on the road. The people that work for this company are the best I have worked for and with in my entire career.
What do you miss most about working at Van Horn?
Hands down the people. I loved my team in Oconomowoc and all of the other managers I worked with daily at other stores. Upper management believed in my abilities and let me learn and grow as a leader. It made pursuing this that much harder. To leave a job I truly enjoyed was a difficult decision.