MEALS ON WHEELS RECIPIENT OF PAY-IT-FORWARD DONATION
Last week, the Sheboygan County Chamber of Commerce held their 2018 Chamber Champions Gala at the Osthoff Resort in Elkhart Lake. In attendance representing Van Horn Automotive Group were Teresa Van Horn, Dick Strong, Sunday Strong, Jeff Niesen, Brian Wieland, and Crystal Dekker. Van Horn Automotive Group was a Platinum Sponsor of this event, as well as the host of the the "Pay-it-Forward moment" – a random drawing, allowing a chosen guest to select a charity for a $1000 donation.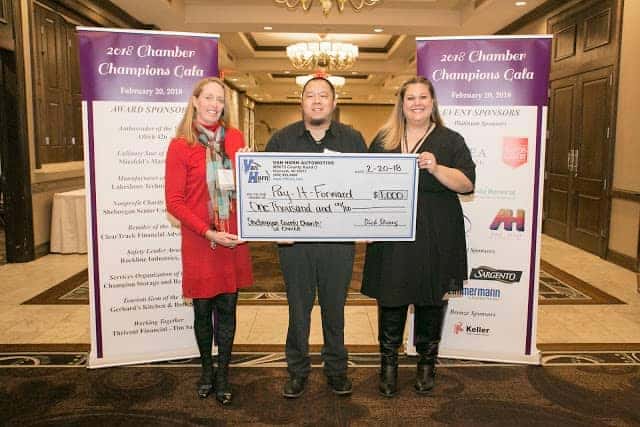 Brett Fosdick, Sales Manager at US Cellular, was the lucky recipient of the Pay-it-Forward award. He chose to pay it forward to Meals on Wheels of Sheboygan County, Inc. He stated that he chose Meals on Wheels of Sheboygan County because "they have helped out a peer of mine who was in need in the past. I believe it's a great service for people who aren't able to leave the confines of their homes to be able to get meals delivered to their homes."
Meals on Wheels of Sheboygan County partners with local farmers and gardeners to provide fresh meals for the elderly and homebound.
Van Horn has sponsored the Pay-it-Forward donation for the past four years, benefiting other local organizations such as the Sharon S. Richardson Community Hospice, the Sheboygan County Cancer Care Fund, and RCS Empowers Inc.
Teresa Van Horn believes it is very important as a pillar of the communities we live to give back to the community and support one another. "We have been very fortunate to have the support of our communities these past 50 years. Pay-it-forward gives us the opportunity to say thank you and give the community the additional opportunity to help each other out. The support that communities receive from our business and the many other businesses will help us to continue to grow and remain strong for the future," says Van Horn.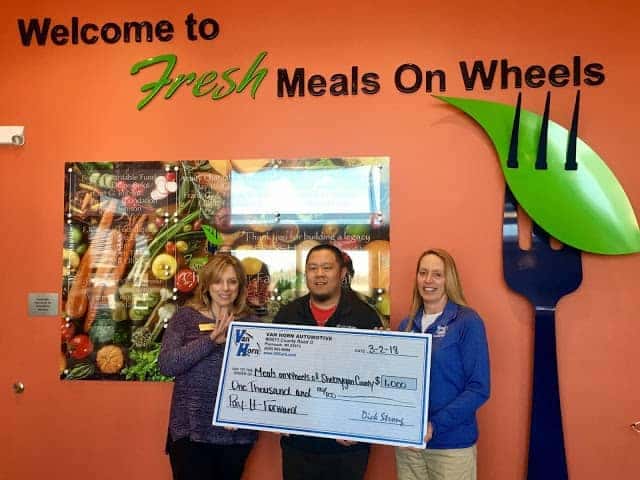 For more information about Meals on Wheels of Sheboygan County, please visit https://www.freshmealsonwheels.org.