VAN HORN AUTOMOTIVE GROUP STUDENT RECEIVES WATDA FOUNDATION AUTOMOTIVE TECHNICIAN SCHOLARSHIP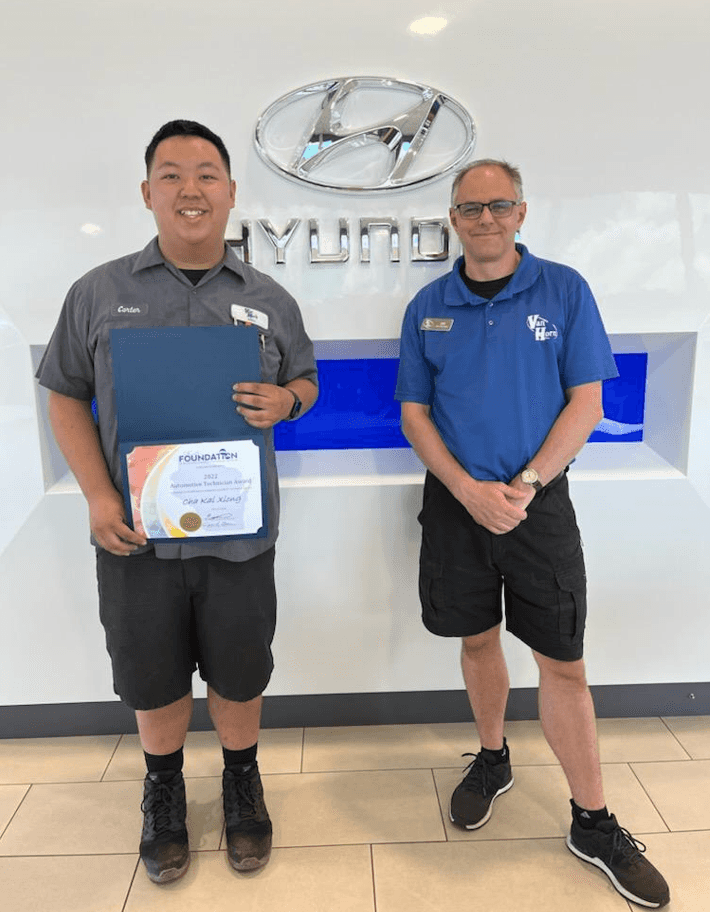 Sheboygan, WI – Wisconsin high school graduates and continuing education students are selected to receive technician scholarships through The Foundation of the Wisconsin Automobile and Truck Dealers Association (WATDA) sponsored by local dealerships and other foundation partners. Recipients will use the scholarship awards to fund their vehicle service education in automotive, diesel, motorcycle or collision technology at the Wisconsin Technical College of their choice.
Among the recipients is Cha Kai Carter Xiong of Sheboygan, WI. He will receive a $4,000 tuition scholarship sponsored by Van Horn Automotive Group headquartered in Plymouth, WI. Van Horn Hyundai of Sheboygan will provide Xiong with on-the-job training and mentoring while he attends the automotive program at Lakeshore Technical College (LTC) in Cleveland, WI. In addition to the scholarship, Xiong will receive a tool set valued at $4,657 from Snap-On Corporation headquartered in Kenosha, WI.
WATDA Foundation scholarship recipients are selected based on completed application, GPA, testing, and interviews. The WATDA Foundation has awarded over 2,200 scholarships; encouraging and assisting young people to pursue a career in the automobile, truck and motorcycle industries in Wisconsin.