VAN HORN HELPS GRANT A WISH AT MAKE-A-WISH® GOLF OUTING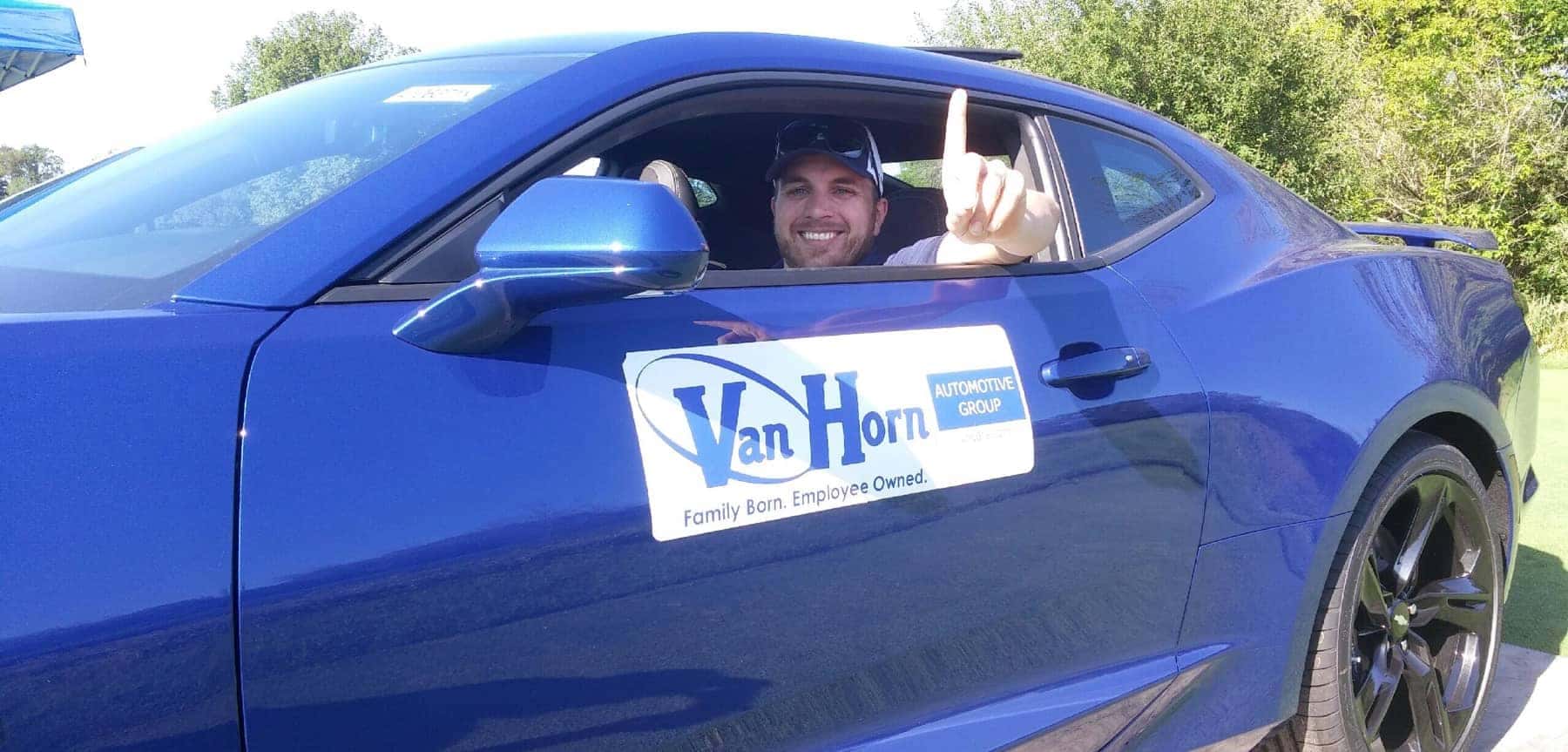 GOLFER HITS HOLE-IN-ONE TO WIN A 2019 CHEVROLET CAMARO
Kohler, WI, August 19, 2019 – What started out as a beautiful morning for golf at Blackwolf Run, became a magical day for Cambellsport resident Craig Hatch, who aced the 17th hole at Blackwolf Run's River Course to win a 2019 Chevrolet Camaro from Van Horn Automotive Group.
Hatch, a brain cancer survivor himself, was participating in the annual Make-A-Wish Wisconsin golf outing, sponsored by Sargento and Johnsonville. Van Horn Automotive was the sponsor of two, hole-in-one contests at Blackwolf Run. With an 8 iron in hand, Hatch approached the 154-yard 17th hole of the River Course for his first tee shot of the day during a shotgun start. Hatch stated, "I didn't think the ball actually went in! It was my first shot of the day and I was in disbelief. As the witness walked to the hole to verify that it was in there, I ran next to her because I couldn't believe it. It was my first hole in one and my first time golfing in the Make-A-Wish golf outing."
"This is my second time volunteering as a hole-in-one contest witness for the Make-A-Wish golf outing, said Sunday Strong, Executive Assistant at Van Horn Automotive Group. "It's such a fun day for everyone. I've seen many golfers get close, but never make a hole-in-one; so to see Mr. Hatch achieve this feat was truly an exciting experience." Teresa Van Horn, Co-CEO of Van Horn Automotive Group added, "We enjoy sponsoring great causes like Make-A-Wish alongside other area businesses to thank our communities for their patronage."
ABOUT MAKE-A-WISH FOUNDATION
Make-A-Wish® creates life-changing wishes for children with critical illnesses. We seek to bring every eligible child's wish to life because a wish is an integral part of a child's treatment journey. Research shows children who have wishes granted can build the physical and emotional strength they need to fight their illness. Headquartered in Phoenix, Arizona, Make-A-Wish is the world's leading children's wish-granting organization, serving children in every community in the United States and in more than 50 countries worldwide. Together, generous donors, supporters, staff and nearly 40,000 volunteers across the U.S., grant a wish every 34 minutes, on average, somewhere in the country. Since 1980, Make-A-Wish has granted more than 315,000 wishes to children in the U.S. and its territories; more than 15,600 in 2018 alone. For more information about Make-A-Wish America, visit www.wish.org.
ABOUT Van Horn Automotive Group
Van Horn Automotive Group is a family born, employee owned automotive group with headquarters in Plymouth, Wisconsin. Founded in 1966 by Joe Van Horn as a single Chevrolet dealership, and purchased by his children: Chuck, Teresa and JP Van Horn, Van Horn Automotive Group has grown to include 16 automotive dealerships, a finance company, a real estate business and several insurance companies. The group employs over 580 people throughout Wisconsin and Iowa. For employment opportunities visit the Careers page at www.vhcars.com.