VAN HORN HYUNDAI OF SHEBOYGAN NOW OPEN FOR BUSINESS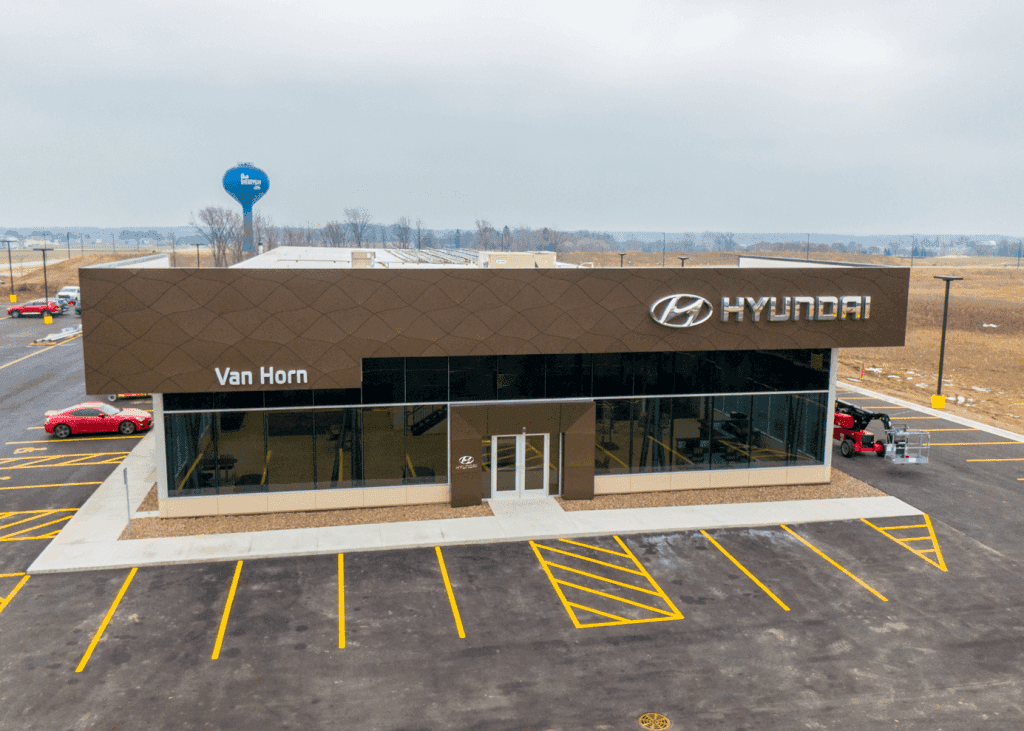 NEW SOUTH SIDE LOCATION EXTENDS OFFERINGS ON RACETRACK ROAD
Sheboygan, WI, January 2, 2019 – Van Horn Automotive Group has announced the opening of their brand new, south-side Hyundai dealership. Van Horn Automotive Group, in partnership with Quasius Construction, broke ground in early May for a new facility located at 5525 Racetrack Road, directly next to Van Horn Nissan and Van Horn Volkswagen.
The new, 16,000 square foot, energy-efficient building will feature a state-of-the-art service facility with two interior service drive-through lanes and eleven service bays to increase car care efficiencies and perform high-quality repairs. Adjacent to the service area will be a comfortable customer lounge area and 2,600 square foot showroom. The design of this Hyundai dealership is the second one of its kind built in Wisconsin.
"We're very excited to add the Hyundai franchise to our south-side location next to Nissan and Volkswagen," said Kyle Fale, Platform Director with Van Horn Automotive Group. "Customers now have the opportunity to shop over 500 new and used vehicles with an import brand focus from one location, and we're able to provide an enhanced service experience for our valued guests. We are happy to be an integral part of the South Taylor Drive expansion project." Quasius Construction managed the construction of Van Horn Hyundai of Sheboygan, partnering with Van Horn Real Estate, led by director, Chris Merklein. In an earlier statement, Matt Quasius, President of Quasius Construction was quoted as stating, "It has been a pleasure working with Van Horn Automotive Group on this project. Anytime we can partner with someone who's values align with Quasius, it provides tremendous impact."
Van Horn Mazda of Sheboygan will remain at the previous Hyundai location at 3512 Wilgus Avenue on the north side of Sheboygan. It will feature over 100 used vehicles in addition to a selection of new Mazdas, and will continue to service all makes and models.