VAN HORN NISSAN VOLKSWAGEN OF SHEBOYGAN SUPPORTS SAFE HARBOR THROUGH AUTO SALES
On September 17, 2018, Van Horn Automotive Group purchased Nissan and Volkswagen dealerships in Sheboygan. In celebration of the new location, Van Horn Nissan Volkswagen of Sheboygan donated $100 from each unit sold in October and November to Safe Harbor of Sheboygan County. Established in 1990, Safe Harbor has provided assistance to individuals in Sheboygan County that have been affected by sexual assault and domestic abuse in their time of crisis.
Van Horn Nissan Volkswagen sold a total of 101 units in their first two months of operation, totaling a donation of $10,100. "This unique kind of fundraising promotion is a great way to increase awareness of our services. The funds we received help us provide the critical direct services victims of abuse need. Services include: emergency hotline, shelter services and supplies to provide immediate safety, victim accompaniment which helps victims navigate systems and other community services that can help people move toward a life without violence," said Laura Roenitz, Executive Director of Safe Harbor.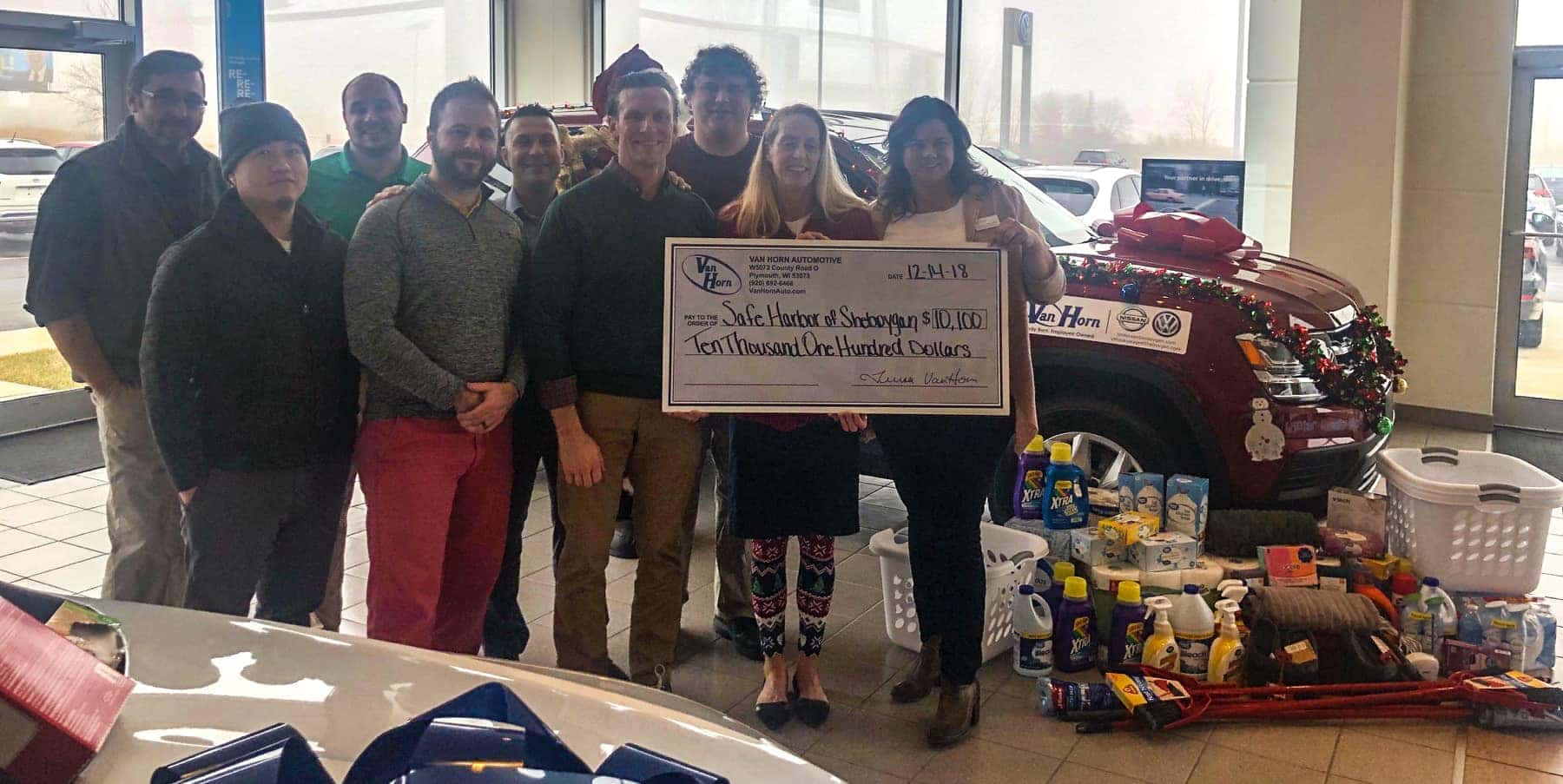 Leading into the Holidays, Van Horn Automotive Group also collected items through a supply drive involving all Van Horn dealerships throughout Sheboygan County. The monetary donation, as well as the supplies, were presented to Roenitz and Safe Harbor on December 14, 2018. Supply drive items included: paper products, towels, cleaning supplies, and laundry necessities – items the shelter can always use.
Van Horn Automotive Group is proud to support the communities in which they operate, and will continue to give back time and talents to make them stronger.
If you or someone you know is in need of services provided by Safe Harbor, please call their helpline at 920-452-7640.